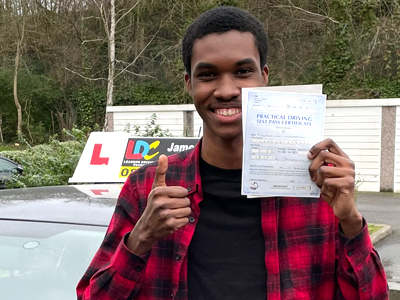 Keldon
Passed 1st time
Passed First Time - 3 Minors I Passed! I did it on my first go and it is all thanks to the guidance of James. From the moment we started my lessons, he made the time we practised feel relaxed and enjoyable. My lessons were the highlight of my week. I wanted to pass for the first time and he made it happen! He would focus on areas in which I needed to improve and made me a confident and competent driver all round. Couldn't imagine learning with another instructor and I would recommend him to anyone who wants to learn to be a proper driver.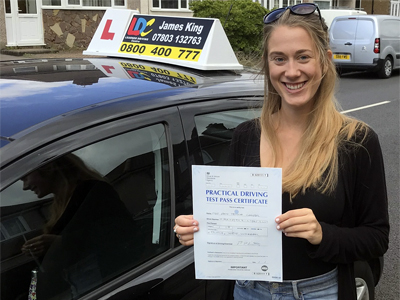 Amy
Passed 1st time - 3 minors
I passed first time after completing the semi-intensive driving course! James was a great instructor. His positive attitude meant that I quickly grew in confidence and didn't feel stressed when I made a mistake. Lessons moved at a perfect pace - I never felt pushed to do anything that I wasn't comfortable with, but was consistently making progress. He explained things clearly and broke them down into simple steps meaning that I was confident to perform maneuvers such as the parallel park after a few practices. I would definitely recommend James as a driving instructor and am very thankful to him for making my driving experience such a positive one! Thanks again for all your help and support, and I may be in touch at some point for some motorway lessons!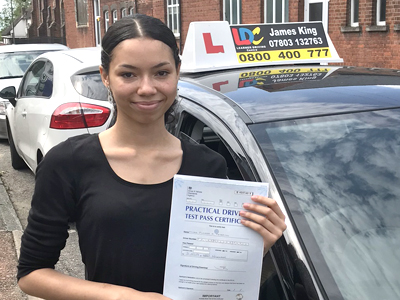 Phoebe
Passed - 1 minor
My sister, Sian, was instructed by James and after the good impression, I also went with him. James is a great instructor! James is very patient, calm, eager to help and overall, very friendly. In the beginning, I was intimidated by hill starts. I was worried about stalling or rolling back. However, James was able to break this down into easy step by step instructions and I had no problems after getting a grasp for it. I always felt very encouraged and motivated by him, even when making silly mistakes. He gently pushed me out of my comfort zone (I was fairly nervous for the first couple of lessons) and helped me to relax into it. James also helped to keep me calm and level headed before the final driving test. Learning to drive with James was a very fun learning experience. I will be recommending him to my friends! Thank you for helping me!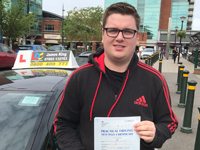 Kieran
Passed 1st time
I had no experience of driving before getting started with James and was therefore a bit apprehensive of the whole process. However James made me feel at ease from the second I started lessons. He was patient and informative throughout, always giving great advice and tips. The best aspect of the lessons for me was that James always had a positive attitude and even if something wasn't going great, he was able to address it in a way that allowed me not to get too annoyed with myself. It clearly worked as I passed first time. He was always very reliable and worked around my schedule when planning each week's lessons. I would highly recommend James to anyone, especially anyone who is a bit nervous to drive for the first time.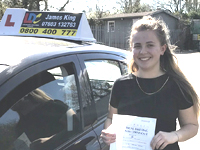 Ella
Passed 1st time - No Minors!
Thank you. Passing my driving license was one of my goals this year and doing it first time without any minors was thanks to James and his professionalism. By always keeping me calm, my confidence grew allowing me to progress and pass first time. Each lesson aimed at teaching me different aspects of driving not only specifically for the test but for my personal benefit too. James would always believe in my driving and reassured me whenever, especially on the test day when of course nerves kicked in. I would 100% recommend James as a driving instructor and yet again another thanks as I wouldn't have been able to do it without him.
Natalie
Passed 1st time!
James is the best! At no point has he ever made me feel bad about my mistakes - instead he is understanding and reasonable, & importantly he stays calm. James has the knack of explaining things in a very clear & understandable way, & he was happy to answer any questions I came up with. He also has a great sense of humour. All this helped make learning a fun experience.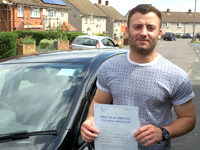 Brandon
Passed 1st time 2 minors
After having a few lessons with bigger previous driving schools, I didn't feel they were doing a good enough job so I researched local instructors and I'm so glad I found James. James was very different to my previous instructors as he was very understanding, patient and understood all my issues and helped me with them until they were all sorted. We were on a tight schedule as my test was booked and James really helped me to feel positive and to ensure I was ready for the day. He was very flexible with fitting around my working hours and was always on time. Just want to thank James for all his hard work and effort to making me pass first time.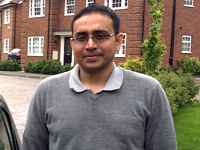 Shibu
Passed with two minors!
Thanks to James for helping me get through the driving test. After being frustrated at the lack of progress with a famous driving school even after 15 lessons, I came across LDC and James online. I could see immediate progress with James' instruction and I was doing all the driving from the second lesson onwards. James' skill and patience put me at ease in the car while the LDC book and videos helped me reflect on the previous lesson and prepare for the next. James' immaculate preparation helped me iron out faults in my driving, pass the test and improve as a driver. I would highly recommend James to anyone looking to pass the practical driving test and also become a better driver.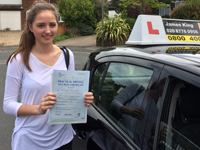 Eleanor Shackleton
I passed 1st time with James, from the first lesson he made me feel comfortable by being so calm and giving clear instructions. He was extremely organised when it came to planning lessons and made lessons easily fit around my school life. Throughout the lessons he gave me a varied experience of driving, teaching me how to drive in a variety of areas which built my confidence. When it came to my test I was extremely nervous, even in the build up and James dealt with it extremely well and calmed me down which allowed me to pass. Throughout the lessons he was friendly, experience and calm and taught me to deal with stressful situations well. Overall James was a great instructor which I'm very thankful for and I would highly recommend him to anyone!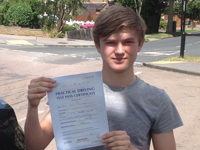 Aaron
I have just passed my test, first time, with James as my instructor.
James made me feel comfortable driving, as he has a calm and patient manner. I didn't want to rush my lessons as I wanted to gain more experience before taking my test and James allowed me to take things at my own pace. I didn't feel panicked during more stressful driving situations as James is a calming influence. I wouldn't want his job! I am looking forward to getting my own car now and am likely to go back to James for Pass Plus lessons, to get some support going on the motorway.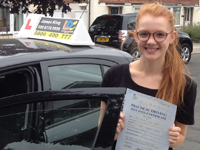 Laura
Passed 1st Time - 4 Minors
I found James online after wanting to change from another driving instructor after I felt that I lacked confidence. From my first lesson James encouraged me and his patient nature put me at ease whilst driving. James' simplistic approach to teaching manoeuvres meant I had no problem with performing them after a couple of practices and his methodical planning of the lessons to tackle the problems I was having meant that I always knew what I needed to focus on and improve.
James was always flexible with arranging lessons to fit in with my school timetable and when at the last minute the DVLA rearranged my test date he accommodated the changes and ensured that I had all the practice that I needed. I would like to thank James for restoring the enjoyment in driving that I had previously lacked and would fully recommend him to anyone looking for a patient, encouraging and friendly instructor!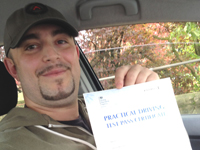 Enes
I found James to be a very professional instructor that put me at ease from the first lesson. Very professional understanding and made no issues if I had to change lesson,time or a date. I would highly recommend James for any new learner no matter how terifying they might think driving can be. Thank you James for the knowledge and confidence you gave me.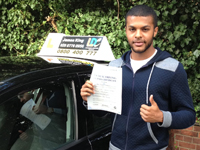 Jamal
Passed first time, 3 minors
I was recommended to James by a friend of mine who also passed his driving test with him. I had about 10 hours worth of driving experience/lessons before I started driving with James but these were around 2 years prior. James made me feel really comfortable straight away and got me back into the swing of things really quick. Going into my test I was 100% confident and I felt he was just as confident which helped me a huge amount. The main thing I noticed about James is how comfortable he made me feel doing the manoeuvres as well as my overall driving so going into my test I had no concerns what so ever. I would like to thank James for helping me pass and having belief in me, making me feel at ease throughout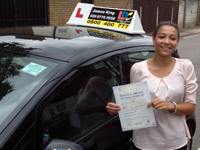 Sian
Passed first time, 1 minor
I would like to say thank you to James for his patience and calmness that ensured I was able to pass my test first time with ease. My dad found James's website online and liked the look of his page and his positive testimonials so booked me in for a trial lesson. James was an amazing instructor, positive and helped to instil self confidence in my driving from the first lesson. Lessons were focused and productive. I had no driving experience outside the 30 hours I booked with James, but James ensured I felt more prepared for my test than some of my friends who had acquired double the driving experience of myself. I would most definitely recommend James he is a truly fantastic teacher, cannot thank him enough.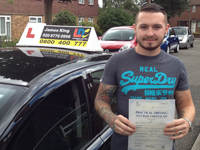 Frank
Passed with 3 minors
I started my lessons with James around April 2013 and had a goal to pass within 3 months. When I met James and had my first lesson I was so impressed at how calm and positive he is. James was always encouraging me to be calm and helping me stay positive as I didn't think I was a good driver he gave me reassurance that I was a good driver which led to me passing. He has really great techniques when it comes to the manoeuvres which I found easy to learn and remember. Never did James panic or get irritated if I made an error which some instructors do. James would always get back to me when I text him and would always be there to offer advice. James took care of my driving needs and turned a completely new driver into a fully qualified driver in less than 3months. Thanks James for all your help I couldn't have done it with out you.
Claire
Passed 1st time 4 minors
I took a semi-intensive course with James. In 3 months I went from never having driven to passing my test first time on busy roads in inner South-east London. At every stage James was clear, patient and calm, providing a good mixture of support and motivation as we moved onto busier roads and roundabouts. I wouldn't hesitate to recommend him as an instructor.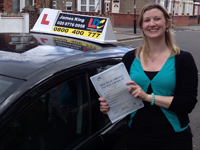 Nina
Passed 1st time - 4 minors
I started my driving lessons with another instructor, but as my test neared I felt I lacked the confidence to take the test. I postponed my test and looked for an alternative instructor. I was so lucky to find James. He boosted my confidence from the start and was helpful in preparing me for independent driving. He gave me some very useful pointers to help nail the manoeuvres and had a very effective way of explaining things. I was impressed that James always started the lesson with a recap of the previous lesson and a reminder of the areas we had agreed to look at. His planned, methodical approach helped to my put my mind at ease that i was covering all the key elements. As my test grew closer, James was fantastic in ensuring he put aside time to increase the frequency of my lessons, as i was not able to drive in between lessons. I was thrilled to pass first time with only four minors. more importantly he gave me confidence in driving and helped me to enjoy it!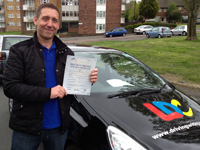 Rob
Passed 1st time - 4 minors
James was recommended to me by a family member and he was brilliant. James is patient and supportive and nothing is too much trouble, if I had any concerns James addressed them straight away. He is straight talking and clear in all of his explanations and teaching. I left driving till quite late being 35 as I had a bad experience with a previous instructor from a different company so was not completely confident in trying again, James made me relax and gave me back my confidence he taught me well and his abilities and teaching skills really are fantastic. The whole LDC training system is easy to work through and really was a huge help too! James really is an amazing instructor and I honestly believe that if you choose James you won't go wrong! Thanks James!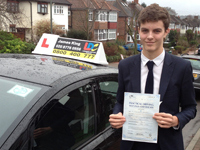 Joe
Passed 1st time - 4 minors
Trying to accommodate driving lessons in and around school work whilst wanting to do a semi-intensive course at the same time is never easy, but James and I were able to come up with regular, weekly lessons that fitted into my schedule. James also had confidence in me from day one which always helps when learning something completely new. Throughout the whole time of learning he was always calm, patient, positive and easy to get along with helping me progress quicker without panicking if if I made a mistake. I passed first time with 4 minors which is a credit to him because although my test almost gave me a heart attack, James' teaching had helped me make the right decision and continue the drive safely. I would definitely recommend him because he truly is a great teacher. Thank you James.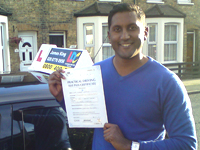 VJ
Passed 1st time - 3 minors
Being a busy professional, I had a limited time frame in which to learn to drive, but James was flexible and accommodated my demanding needs. He was a likeable, friendly and approachable driving instructor. I felt I was able to progress quickly with James' constructive and progressive teaching style. James remained patient and positive throughout my driving lessons and I felt my confidence and ability increase with time spent with him. Combined with the LDC learning materials I was able to maintain what I learned, reduce skill fade between lessons, continue my focus and build progressively to achieve my goal of passing my driving test. James' results are testimony to his teaching abilities - I passed first time with only 3 minor faults and now feel confident in my own abilities to continue driving safely. I would highly recommend James to anyone considering learning to drive. Thank you James.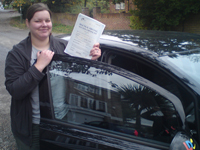 Sarah
Passed 1st time 4 minors
I needed to get my driving test done in a short space of time and did a semi-intensive course with James. I had very little driving experience and James was a great instructor. He was patient and calm - which calmed me down! He made me feel very at ease, even though initially I was quite nervous about being out on the roads. James explained things in a way that was easy to understand and learn from.
I had to reschedule some of my lessons due to last minute work commitments but James was understanding and flexible which was a great load off my shoulders.
ames really gave me confidence in my driving and I passed my test 1st time after just 4 weeks of driving. I would recommend James to anyone wanting to start driving. I never thought I'd say it, but I actually enjoyed my driving lessons! Oh and the price was very reasonable!!!!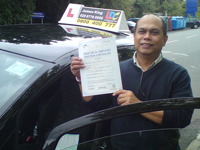 Leo
Passed 7 minors
I am in my 40s and had driving experience in the past but had not been driving for almost 11 years since coming into the UK. I failed the driving test 2x with a different driving school, despite many hours of driving lessons. I decided to book one more practical test at a different test centre. I got the 28th September slot but I was only free to do driving lessons 2 weeks before the test. I wanted to try a new instructor and while searching for one in West Wickham Online I was drawn to LDC and the good testimonials for James gave me hope and encouraged me to seek his help for the short time available. He replied and accommodated me and what can I say to James, the testimonials are true.
Reflecting on my failure in the past I found out during this two weeks with James that I still carried my bad driving habits I used to do 11 years ago. His excellent instruction style, patience, constructive criticisms and encouragement helped me to sort out these hurdles by focused repetitions of manoeuvres until it was perfectly safe. His constant friendly reminders, hints and tips has kept me focused and eased my nerves up to the crucial remaining minutes before the test. So many thanks indeed to you James and the LDC system. Your service was cost effective and truly you're worth recommending to my friends and family.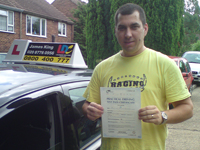 Justin
Passed 1st time, 2 minors
I started lessons with James from LDC in March 2012 and had a goal of getting my licence by August. Having tried lessons a couple years before but never getting to test level with another driving company we pretty much started from scratch. James worked me up to being confident with all the manoeuvres, whilst driving in traffic and on the dual carriageways. I completed my lessons with James and the LDC on the 4th of July with a 1st time pass and only two minors and well ahead of my goal. James's techniques for teaching you how to drive are faultless he was easy to speak to and always helped you keep those nerves under control. Thank you James for all your help in helping me achieve my driving licence which in the end was pretty easy all thanks to you.
Rovena
I researched driving schools in Bromley area to find the best possible and started learning with James King at LDC. James was very patient throughout my lessons and gradually built up my confidence to a point where I was ready for any eventuality. Learning in a relaxed environment really helped me on the road, particularly for my driving test. I strongly recommend LDC driving school and I am very grateful to James - I wouldn't have done it without him. His teaching technique is unique and almost tailor made to your needs.
James was always very professional and patient throughout my driver training. This was the best decision I could have made as he was excellent throughout my lessons explaining everything I needed to know in detail. He was very reliable and punctual and because he taught in a relaxed way I always felt safe and at ease on the road. This definitely contributed to me passing the test quickly.
Also, he performs as many mock tests as you prefer at a very high standard which gives a strong indication of where you stand prior to the real test. The mock test results I got from James, exactly mirrored my real test results, which again emphasise the professionalism and excellence he delivers in his lessons. James is very precise and will not waste a minute of your time, he is focused and takes you through all the driving routes suitable for the test, so on the day of the test you feel so familiar with any independent drive or route you are asked to follow.
If you are serious about driving and are looking for the best possible instructor, I highly recommend James, you won't regret it!
It is the best investment I have ever done, so thank you James again, for all your hard efforts and your excellent attitude. It has been such an enjoyable experience!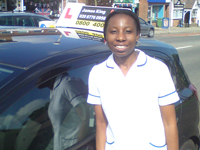 Ola
Passed 1st time, 6 minors
James was recommended to me by my husband and I must say that recommendation ranks as one of the best he's made so far. Lol. James is an excellent instructor. He is very calm and instils self-confidence which I found really helpful as I was quite nervous about driving again after a two year break.
With James, even 'tricky' manoeuvres became quite simple. Passing the test first time had more to do with James' competence as an instructor rather than my own natural driving ability. I was so relieved to pass my test at the first attempt and I would readily recommend this gentleman to any one, beginner or otherwise.
Chantal
James, I just wanted to say thank you so much for teaching me to drive, thank you for your endless patience, your relentless positivity and just your general nature - I honestly don't think I could have succeeded with anyone else! Driving has changed my life, even more than I thought it would. I haven't forgotten anything that you taught me (sign of a good teacher) and I'm so grateful that you willed me on, even when at times I wanted to give up and decided that I just will never be able to drive!!! As you know, I was exceptionally unconfident about driving, and passing my test just seemed like something I could never possibly achieve - but somehow, you never let that get in the way, you encouraged me and guided me on. You really listened to me and seem to really think about what would help me, each lesson you had come up with a plan to overcome the next hurdle and often suggested doing things that I had been thinking would help me as well. Thank you for being open to my suggestions too - an example of this - I developed a fear of a particular roundabout so we tackled it with repeatedly driving round and getting back on it, I think maybe 10-20 times in a row one evening! - sounds silly but this was a massive turning point for me, I haven't feared that roundabout or any other since! As you know, I had driving lessons a few years before with another instructor, which did not go well - (I thought it was down to me for a long time) - but after one lesson with you I realised that not all instructors are great, I mention this because I don't just think you're a good instructor because I have nothing to compare you to, I do and I know you are a brilliant instructor. I could go on and on (as you know) but think I may have gone on too much already, so, thank you, thank you, thank you, I will be recommending you to anyone wanting to drive.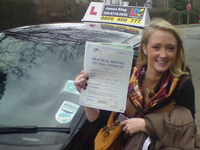 Kelly
Passed 2 minors
I had been learning to drive for about 2 years previously but still didn't feel up to test standard, but I was soon up to test standard after a few months with James, and passed my test second time with only 2 minors. James is a brilliant teacher. He remained calm even when I was really nervous.. My cousin recommended him to me and now I've recommended him to my friends. I found him very patient and encouraging.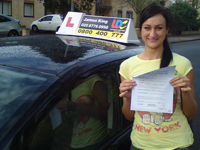 Inga
Passed 1st time
I decided to have lessons with LDC as I had looked at the website and was impressed by all of the comments I read on the testimonial page.. The LD system was simple, easy to understand and James was an amazing instructor, who I could not thank enough for his time, effort and amazing patience with helping me to pass my driving test 1st time!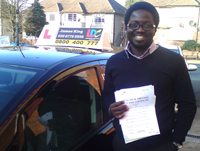 Dele
Passed 6 minors
I just passed my test less than 1 hour ago and am so excited. I had 10 sessions with my previous instructor from an over-rated driving school and failed twice. I was determined to pass the third time but had doubts about driving schools. I went on the Internet & did some research, read James's reviews, and made an SOS call to him as my next test was 2weeks away. I was lucky he had few slots open. His diagrammatic illustration of driving techniques was magnificent. I realised I hadn't learnt much from my previous instructor. I strongly recommend this ever calm gentleman to fresh learners and those who just need some 'brushing up'. Phew! What a relief.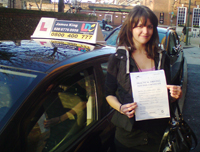 Amy
Passed 1st time
I had a few lessons a couple of years back with another driving school, but following a recommendation from a friend I chose to go with LDC. The entire booking process and organising lessons with James was very simple. I chose the 30 hour course, and did the majority of my lessons within a week. James managed to get a cancellation for a driving test sooner than expected and the remainder of the lessons were kept back over the next few weeks until my test.
I am really pleased with the LDC way of learning; I found the workbook and DVD extremely useful when I was not in the car driving. By having the LDC workbook and DVD it helped keep everything fresh in my mind for my next lesson.
James is a great, friendly and patient driving instructor, and I would recommend him to anyone (in fact I already have recommended him to others who need to start driving!!). I passed first time with 7 minors.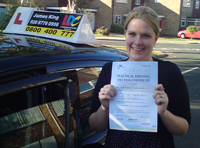 Abby
I am 32 and had never driven before. James made me relax and also made me laugh. He had to put up with quite a lot with me, but always remained very calm. He is very reliable. You always get the same Instructor which isn't always the case with larger companies. I would definitely recommend James and have done already to everyone that is learning to drive.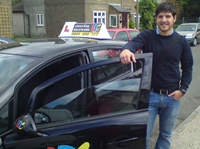 Stuart
Passed 1st time 3 minors
"Passing first time with only 3 minors is more of a reflection on James' ability to teach people to drive safely rather than my natural talent. He was very precise in what I needed to focus on and where things were going wrong which in turn helped me to get over those issues. In a very short period of time James taught me everything I needed to know to drive safely and pass my test. He is very approachable and my lessons were actually something to look forward to and not something to feel intimidated by. I had around 12 hours of lessons and towards the end of those I felt extremely confident going into my test. Another plus was James was actually able to book my driving test at quite short notice due to my theory test closely approaching its expiry.
I'd definitely suggest that anyone looking to pass their test and feel comfortable behind the wheel of a car should learn with James. Great instructor and a general nice guy!"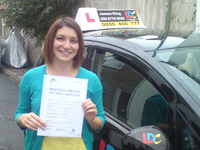 Amy
Passed 1st time 3 minors
"Although I'd had some driving lessons when I met James, I was a nervous driver. He immediately put me at ease with his friendly manner and made me feel comfortable driving a new car. James was always very calm, patient and positive during lessons. He built upon my existing driving skills and was able to show me simple ways to tackle manoeuvres; which were very helpful, James' methods made all manoeuvres seem easy and clear. He progresses your learning in a clear and systematic way which helps you to see how your driving has improved. Also, as the test approached he was able to give constructive feedback and highlight the areas I needed to focus on for the test. Thanks to James I grew in confidence, believed in myself and passed first time with only 3 minors!"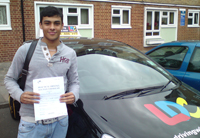 Josh
Passed 1st time 4 minors
"James is an amazing driving instructor being very easy to work and learn with. He uses various techniques to show and to tell the student what to do and improve. Learning manoeuvres was very easy with James' way of explaining how to do things, and you could pull off the manoeuvre on your first try. I did a semi-intensive course and learnt fully how to drive in around 9/ 10 days of 3 hour lessons and found the instructions and the time James dedicated on me to be of much help. James also has a very well thought out planned route for the next lesson, he does not make it up as he goes along and he will tell you what to look at for the next lesson with the help of study aids such as the LDC book and DVD which helped me so much! Another good point is the car in which you learning in. It was a fantastic car, very smooth and easy to drive and the best part practically impossible to stall. I loved learning with James and passed the first time with only 4 minors. I look forward to doing my pass plus with James next!"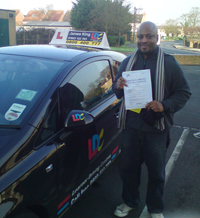 Lekan
Passed first time with 6 minors
"I remember the first time I drove.. James said, "Now, you are moving this car all on your own" that moment for a beginner, was a classic Kodak moment… lol… James has a keen eye for precision which makes him complain when you make a mistake which is good, so you can learn from them but he is also friendly and very patient... Apart from the materials you would be offered at LDC, James has this routine of revising last lessons before starting a new one and recapping at the end of each day which helps a lot… Just before my practical test, James conducted a mock test in which I scored 7 minors when the practical test came up, I scored 6 minors.. Thanks James."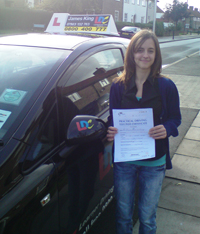 Roberta
Passed 1st time - 4 minors
"Thanks to James I went from never having driven a car to passing my test first time. James is a very patient instructor which was a very good quality for me because I was very nervous when I started to learn, his patience enabled me to feel comfortable and learn quicker. Now that I have passed I am able to tackle any problem that comes my way because James was very thorough, he made sure that I not only passed my test but that I knew how to handle other drivers and other situations. The structure of the lessons were useful, I was able to consolidate the information I had learnt in my lessons using the DVD and book provided for the course; I think this way of learning is a lot better than just having the driving lessons as you don't waste time in your lessons learning for the first time how to do something. It made me feel a lot more comfortable knowing in advance what I would be doing in the lesson and being able to think it through at home before I got in the car helped me progress quicker."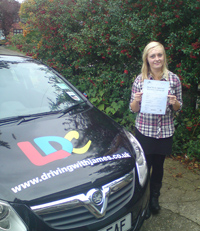 Shannen
Passed 1st time
"I recently took a semi-intensive driving course with James and passed first time with 7 minors. It was my first time driving and he was so patient and calm. He encouraged me to keep going when I thought I couldn't do something and made it clear which parts of driving I needed to focus on in order to pass, which saved me needing extra lessons. James is very flexible and prompt with driving lessons, I didn't have much time spare so he worked around my school timetable which was very helpful. I would definitely recommend James to anyone; he was a friendly and skilled instructor, and never got annoyed when I made mistakes. This made me feel comfortable in the car which helped me pick everything up quickly. James was very supportive and gave me more lessons towards my test date to make me a more confident driver. Before my test I was nervous so he calmed me down and made me focus on my driving. He really is a great driving instructor and if you need to pass your test, you should definitely book some lessons in with James. Thank you for all your help and I will see you for pass plus!"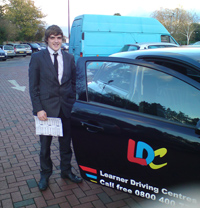 Jamie
Passed 1st time
"I took up lessons at the start of summer hoping to pass at the beginning of the school year. I found that reading the book along with watching the DVD was really helpful as it meant that i knew the theory of the different techniques going into the lesson, meaning that I could maximise the practical time in the car. This, as well as James' teaching style really helped me learn quickly. James is really easy to get along with which makes the lessons more fun and his calm approach means that you don't have to worry if something goes wrong as he can get you back on the right track. I passed my test first time and I really do believe that it was a case of how good the LDC system was along with James' teaching style, I would recommend him to anyone. Thank you James."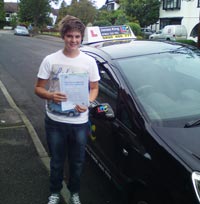 Tom
Passed 1st time
"I recently did a semi-intensive driving course over a month, enabling me to pass first time! The LDC training style really suited me as it meant I could have nearly the whole lesson driving due to the pre-lesson videos, I think this and James' teaching style enabled me to save money on lessons. I would definitely recommend James to anyone wanting to drive, I found him really easy to get on with and he was patient and calm if anything ever went wrong. This made me feel comfortable in the car and comfortable driving with him, due to this I managed to pick up everything relatively quickly. Also James made it clear on which points I needed to focus on during my test in order to not pick up too many minors, and it worked really well as I passed with just 3 minors, thank you James!"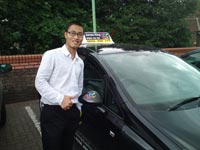 Leo
Passed 7 minors
"Thanks to James I passed after the 2nd test. The LDC system is the best. Previously I learned driving without a systematic approach. With LDC I knew what I was doing and could also revise the lessons in my own time. James applied the LDC system plus put in some of his own tips to help me develop into a much more confident driver. He saved me many extra hours of lessons.
I found James to be so friendly, patient and always encouraging. He never got annoyed with my driving faults, unlike my previous instructor! I am more than happy to recommend James and the LDC system to anyone who is seriously aiming to pass the driving test."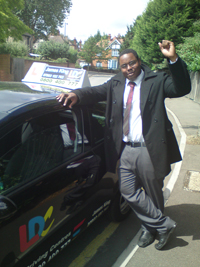 Nathan
Passed with 7 minors
"I recently took a midway pass course with James and passed my test with ease! It was my first time getting behind the wheel of a car in 2 years and as such I was very nervous. James always remained patient and calm throughout which really put those nerves to rest. His friendly manner made it easy for me to talk to him about my progress and areas I felt I needed more work. I feel excellent assessment skills are a must in this line of work and James possesses just that. He was able to tell me how many lessons I needed just after an hour of driving and that assessment was spot on. He even told me how many minors I would pick up during my actual practical test and he was right too! The LDC training system was a great aid in learning to drive but I don't feel I would have passed if it wasn't for James. He is a confident and skilled driver and I don't doubt his ability to pass his skills onto you. So for those of you who want to make your first test your last, book your lessons with James and he will help you do just that. Thank you so much James and I look forward to our pass plus lessons!"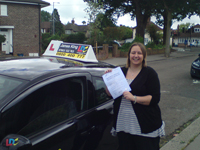 Claire
Passed 1st time 6 minors
"I recently took a 10 day intensive course with James and passed my test first time! Really happy with the whole experience, he was patient and clear in all he did. I would recommend James to anyone. I would also like to mention that the LDC training system works well and was a great tool in my learning to drive. Once again thank you so much for your patience!"